Even with modern paper-free technology available, most small businesses will spend a lot of time printing and copying various documents. Therefore, it is important to do some research and find the best commercial copy machines and printers. A high-quality machine will ensure your business runs smoothly for years. With this guide, you can learn everything you need to know about the best office printer options. 
Should You Get Your Printer and Copier Together?
When shopping for business printers and copiers, you have the option of choosing multifunction or single-function machines. For most businesses, the best small office printer will be one that also combines a copier. This is useful because it is the most cost-effective copier for the remote workplace or small business. Furthermore, it saves space in the office by combining multiple machines, and it simplifies things because you only need to maintain and purchase ink for one machine. The only reason to get a single-function printer or copier is if you have a business where staff will need to copy and print items simultaneously.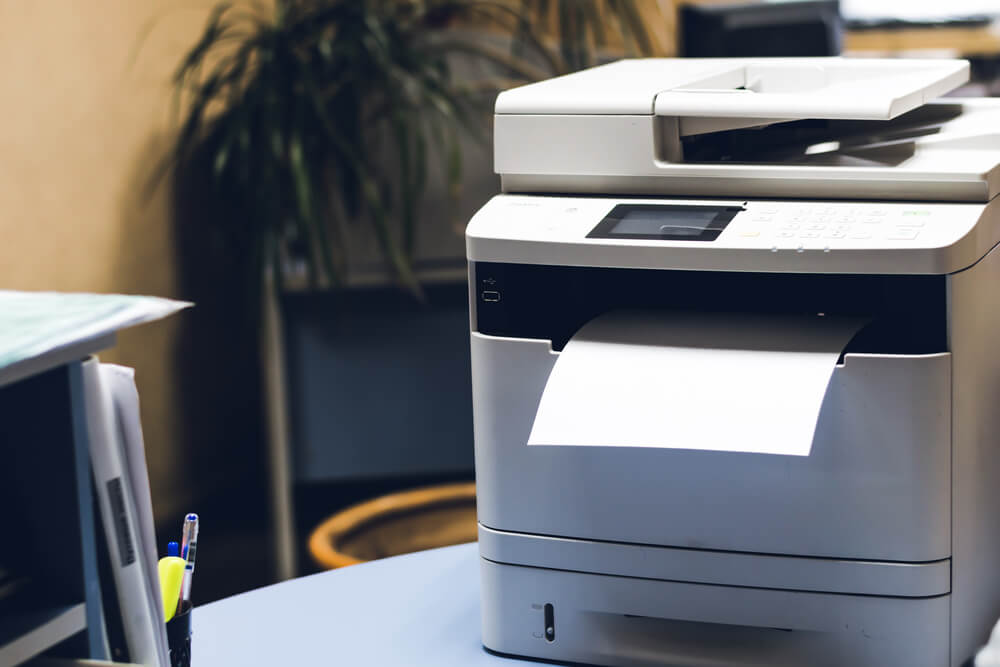 Are Business Copiers Different From Home Copiers?
When shopping for a small business copier, one of the first questions is often, "can't I just use a regular printer or copier?" This might seem like a way to get the most cost-effective printer for the remote workplace, but it is a bad idea in the long run. The standard residential copier or printer will typically break down after a few years of use at a business. Business copiers and printers are designed to handle the higher volume of a whole workplace. Though they might be slightly pricier to buy, this investment lets you save money on repairs in the future.
Is the Best Small Office Printer a Laser or an Inkjet Printer?
Something else to think about when researching what is the best copy machine for an office is laser or inkjet. This refers to the type of method the machine uses to print your papers. Laser printers are larger and cheaper, and they print faster. However, their image quality can be a little off. If you want high-quality images without printer lines or weird colors, inkjet is the way to go. The best color copiers for small businesses are always inkjet because they produce clear, accurate images. 
If your business is a graphic design or photography business, for example, you'll want an inkjet printer. Your business may not be an art business, but it may rely heavily on images. In this case, again, an inkjet printer would be the right choice.
What Are the Must-Have Features for Best Small Business Printer?
The best copiers for small businesses typically have both color and black-and-white printing. Color is increasingly necessary for business documents, so most people are looking for color copiers for small businesses. It can also be helpful to find models with extra features like scanning and faxing. This only costs a little more and greatly increases versatility. A high PPM rating is also found on all the best small business printer models. This lets you quickly print out even lengthy documents. 
You may also want to shop for printers that automatically print both sides since this can speed up work in your office. Make sure that the printer can print on different sizes and paper thicknesses if you plan on printing unconventional-sized documents. Check to see if it is compatible with your company's preferred operating systems. Finally, consider looking for printers with both wired and wireless connectivity options, so you can connect them in as many ways as possible. 
The Best Office Printer Models
Still not sure what the best small business printer for you is? Here are some of the most popular models of business copiers and printers for sale in 2020.
HP OfficeJet Pro 9025

– This multifunction inkjet printer and copier are one of the best small office copier options out there. You can print, scan, copy, and fax. It has automatic double-sided scanning and copying, and it prints up to 24 pages per minute. The ability to control it with a touch screen and hook it up to USB ports makes it very easy to print off anything you need. The final perk is that it is compatible with Windows, Mac, and Linux.

Brother HL-L3270CDW

– Those looking for the best printer for small businesses without a copier will appreciate this sleek single-function model. It does both color and black and white with a 25 PPM rate. You can print from the cloud, from network devices, or from USB devices. Many users report that it comfortably handles 30,000 pages a month without breaking down or slowing down.

Ricoh P C600

– This color laser printer from Ricoh has a blistering-fast 42 PPM rate. It can hold up to 2,100 pages at a time, so you rarely have to change paper. Another reason this is one of the best printers for small businesses is its signature high-yield drum technology. This reduces operating costs, so you save money on business expenses.

Savin MC250FW

– We like this Savin printer for its versatility. It can copy, scan, fax, and print, and it can be used with Windows, Mac, or Linux operating systems. The printer also works with standard letter paper, legal paper, card stock, and other paper types. It runs with a high-yield color toner that reduces maintenance and other expenses. A capacity of 751 sheets and a page per minute rate of 26 makes it time-efficient, too.

Riso ComColor FW 5230

– This compact office printer is loaded with special functions. The inkjet printer has an ultra-fast print speed of 120 PPM, making it even quicker than many laser printers. Several paper trays are stacked on top of each other, allowing plenty of storage space in a small footprint. It also comes with a special energy-saving feature that lets you automate sleep mode to save on power.
Office Supplies Denver
Frontier Business Products is one of the leading providers of office supplies in Denver. As the longest-tenured dealership for Ricoh, Savin, and Riso in Colorado, we have plenty of experience helping businesses pick out printers. Our team is always happy to discuss various models with you and help you explore your options.
At Frontier Business Products, we work hard to provide customized solutions for each one of our customers. Whether your priority is cost-effectiveness, a long life span, or crisp detail, we have a printer for you. To find the perfect office printer for your small business, schedule a free consultation with one of our solution specialists.